So, I've finally established an SSTP connection in my server using SoftEther VPN, and it works. All of the traffics of the connected client (I'm using the built-in SSTP VPN Client from Windows 10) are redirected to my VPN server
I want to make some exclusions to some local networks so its traffics won't pass-thru the VPN server gateway
I'm using Ubuntu 18.04 LTS for the server and using ./vpncmd to manage all of the settings
-------
I've enabled the
SecureNat
and set the Host with following settings
MAC Address = 5E-4B-98-C5-4D-1F
IP Address = 10.11.12.1
Subnet Mask = 255.255.255.0
And I've created a VirtualHub called "
MyHub
"
And then I've set DHCP with the following settings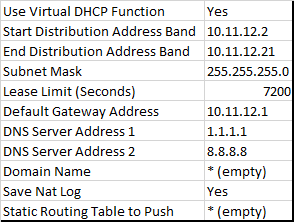 So, because of all of the clients' traffics are redirected thru the VPN server, the resources that are connected with the clients' network became inaccessible. (say the network that I want to access from the client is
I know I just need to manually route from the client's PC,
With OpenVPN's configuration, I can put a
directive directly into the server's config file.
How do I achieve that in SoftEther
Thank You
P.S. Sorry for the bad english.